Business of Photography Workshop
January 27 - 29, 2023
726 Richards Street, Vancouver, BC, Canada
Schedule:
January 27, 2023 - Friday - 6pm to 9pm
January 28, 2023 - Saturday - 9am to 5pm
January 29, 2023 - Sunday - 9am to 5pm
PRICE:
Early Bird Registration - $1,000 + GST (on or before December 01, 2022)
Regular Price - $1,500 + GST
LIMITED TO 10 PARTICIPANTS
REGISTRATION CLOSED ON JANUARY 18, 2023
Who it's for?
This course is for aspiring photographers who have technical knowledge but don't know how to move forward with photography as a business. At the end of this course, you will be equipped with marketing and business skills and understand how you can thrive in a small to medium-sized market. We will be discussing everything that you wondered about photography, branding, pricing, negotiating, working with modeling agencies, photographing known personalities, magazines, pitching to clients, lighting, retouching, producing and more.
This is about altering your life using your camera. Stop working 9 to 5 and starting work for companies and people you adore. Earn more from a single photo shoot than you would from a conventional job in a month. This is about maximizing the life we are given with your camera. This workshop is for those who wants positive change & growth in their career and life.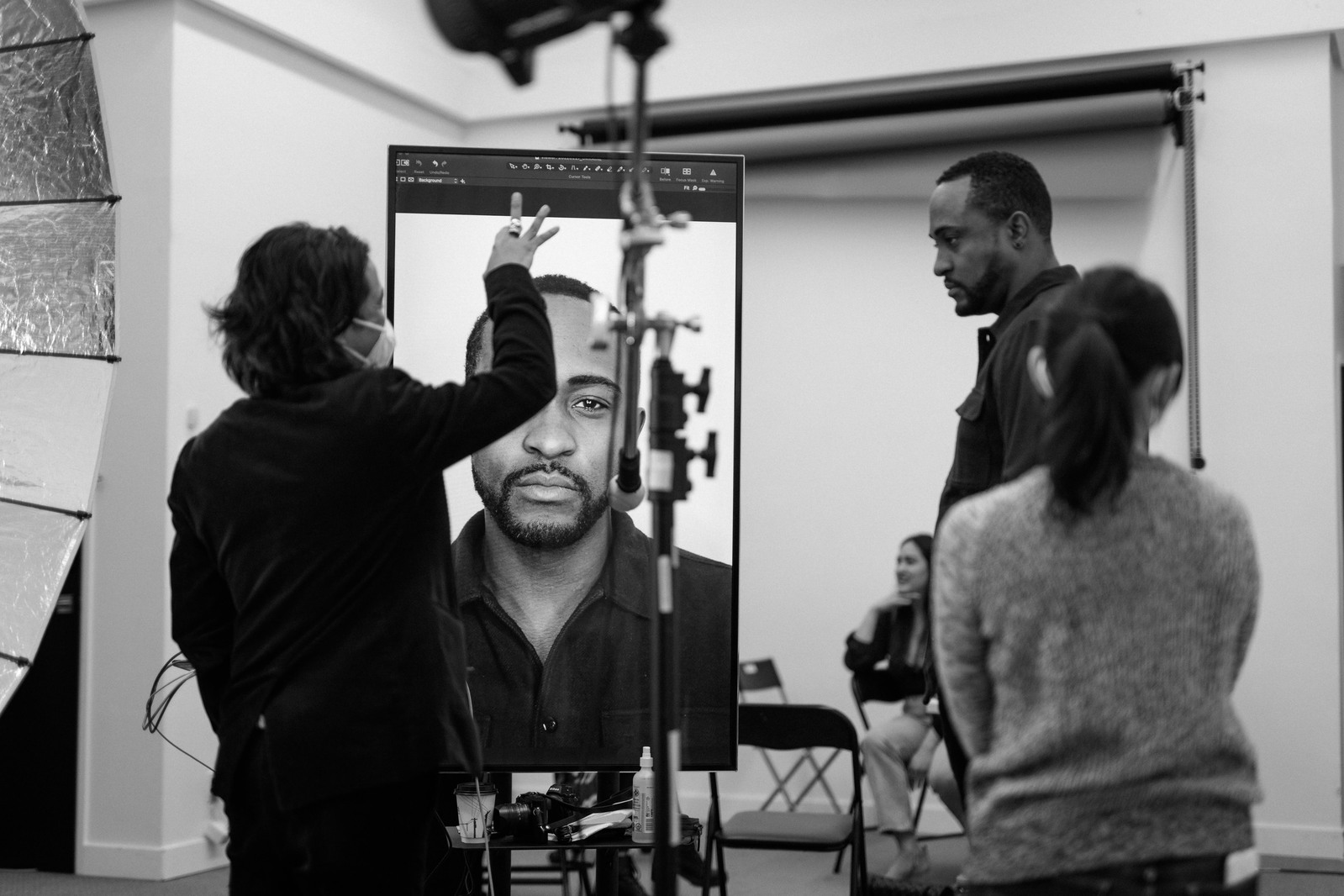 100% Money Back Guarantee
I am confident that this workshop will change your trajectory in photography. If at the end of the workshop you are not satisfied, I will give your money back when participant gives a compelling reason why.
Curriculum/Schedule:

Day 1 (Evening)- Introduction

Clarity - We need to understand our WHY before we can move forward. Understand our motivations, fears and aspiration so we have a clear vision on where we want to go and how we get there.
Find You Unique Voice - Articulate your photographic style and hone in. This helps you understand why you are attracted to certain "look" and use it to maximize your approach in photography.
Introduction to Studio Photography - Get familiar with studio photography equipment.
Day 2 (Morning) - Business of Photography
You are a business - Now let's get to work!- Understand what you need to start a proper photography business, cost of doing business and other legalities that you are probably not aware off.
Maintaining your business - Get a clear snapshot of how your business is doing - "you can't grow what you can't count"
Eye on the future - A realistic view on whats possible and what's not and planning accordingly.
Sole Proprietor vs Corporation
Marketing - Learn how market your business and pitch to brands in this modern age.
Your Brand, Your Image, Your Niche - Appealing to clients emotions can help you garner an ongoing relation shop because clients feel connected to you.
Pricing - Price is what you you pay, value is what you get
Pros and Cos of Insourcing and Outsourcing
Accounting - How do we do it ourselves and what we turn over to an accountant
Contracts - sample contracts to protect you from clients
Negotiation - Learn negotiation techniques I use when closing a deal.
Day 2 (Afternoon) - Photoshoot

Group will be split in half to make sure everyone have enough time.
We will setup the studio for some testshoot/editorial
We will do a testshoot with professional models from The Independent MGMT and I will coach and give tips on how to shoot in studio.
Day 3 (Morning) - Photoshoot
Group will be split in half to make sure everyone have enough time.
We will setup the studio for some testshoot/editorial
We will do a testshoot with professional models from The Independent MGMT and I will coach and give tips on how to shoot in studio.
Day 3 (Afternoon) - Post Production + Group Critique + Q+A
Retouching - This session I will show you what I retouch and how I retouching (Photoshop is required)
Colour Correction - This is the most neglected part of photography, but this makes or breaks your image. In this session i will show you what I do after I retouch an image.
Group Critique
Q+A
I created a course to help you get started and skip all the mistakes I made. This course is made so you can leapfrog your career. It will give you all the knowledge, tools, skills, and "secrets" you need. This program provides practical and up-to-date information that traditional photography schools can't provide with a fraction of its price. Everything you need to know compiled in this workshop. Learn to earn more shooting in a few hours than what you made in one day at a 9 to 5 job. This is not a general instructional course on how to operate a camera or lights. This class will talk about industry myths and reveals how you can start getting customers you love, work with publications, and making six figures.
About Me:
In the past 6 years that I've been doing photography full time, I've been approached by many photographers asking how to make a living in photography. It is sad to see that most photographers don't know how to pursue their passion full time. I've met photographers that I admire and found out that they don't make money from photography and because of this they stop shooting in a few years. I've also met photographers that are older than me whose business is not doing well, they've been set in their ways and don't know how to adjust their business to in this modern world.
In 2016 I was working for a big fashion brand when my manager fired me. I didn't know what to do or how to move forward. At the time this was the dream company that I want to work for. I only have $3,000 in my bank account, 1 camera, 2 lenses, doesn't have any lighting equipment or access to a studio. I couldn't apply to other companies because my contract says I can't work for competitors for the next 2 years. This pushed me to desperation, I didn't have much choice, I have to start my own photography business. I never wanted to borrow money or go in debt so I had to be creative with my time and resources.
Fast forward to now, I've photographed multiple known personalities such as Riz Ahmen, Melissa McCarthy, Jamie Dornan, Madeline Petsch, KJ Apa, Gavin Leatherwood, and have worked with international brands like AllSaints, SSENSE, Lululemon, and Lush.
It wasn't an easy journey, I have to constantly overcome my doubts and fears. I had to learn how to listen to my gut feeling even though it's against everyone's advice. The ones that are ahead of me are telling me how I should run my business but their advice wasn't working for me mainly because it's dated. I want you to learn from my experience and mistakes, this industry is continually changing, it is intimidating and confusing, and most photographers will never share their knowledge to you or would hope for you to succeed.
Price
Registration closed on January 18, 2023
Limited to 10 Participants


"Having followed Noah's work for the past few years, I have been impressed at his work ethic and his ability to make things happen. In his short five years as a professional photographer, he has achieved a great deal more than other photographers who have been in the industry the same amount of time or longer.
Being a professional photographer is not just a singular focus on creating the best image you can. It must be balanced with an acute business sense to make sure your finances will support your long term career progression. When Noah offered a class specifically to address the business side of photography, I signed up for the opportunity because this is one area that I knew needed to improve in.
From advice on collaborating with high level talent to marketing tips, he was open throughout his workshop about how he conducted his business which was helpful to see how large productions are run and what's possible.
It was a refreshing five evenings with other creative who are passionate about what they do and I would recommend it this workshop to any photographer looking to improve their business."

-Zhi
FAQs
Q: Is this workshop for professional photographers?
A: Our definition of professional might be different, this workshop is for everyone, for aspiring photographers, hobbyist and working photographers
Q: Do I need camera to join the workshop?
A: Straight answer is no, but if you wish to maximize the workshop I highly encourage you to bring one especially on Day 2 and 3.
Q: Do I need a computer for this workshop?
A: Would be idea especially for Day 3 - retouching

Q: Can I use the images I take for my portfolio after the workshop?
A: You can use the images for any non-commercial, personal portfolio only.
Q: I am not a photographer but in the business of visual arts, can I still join this workshop?
A: Yes although this is specifically catered towards photographers, you will learn a lot of value skills especially on Day 1 and 2